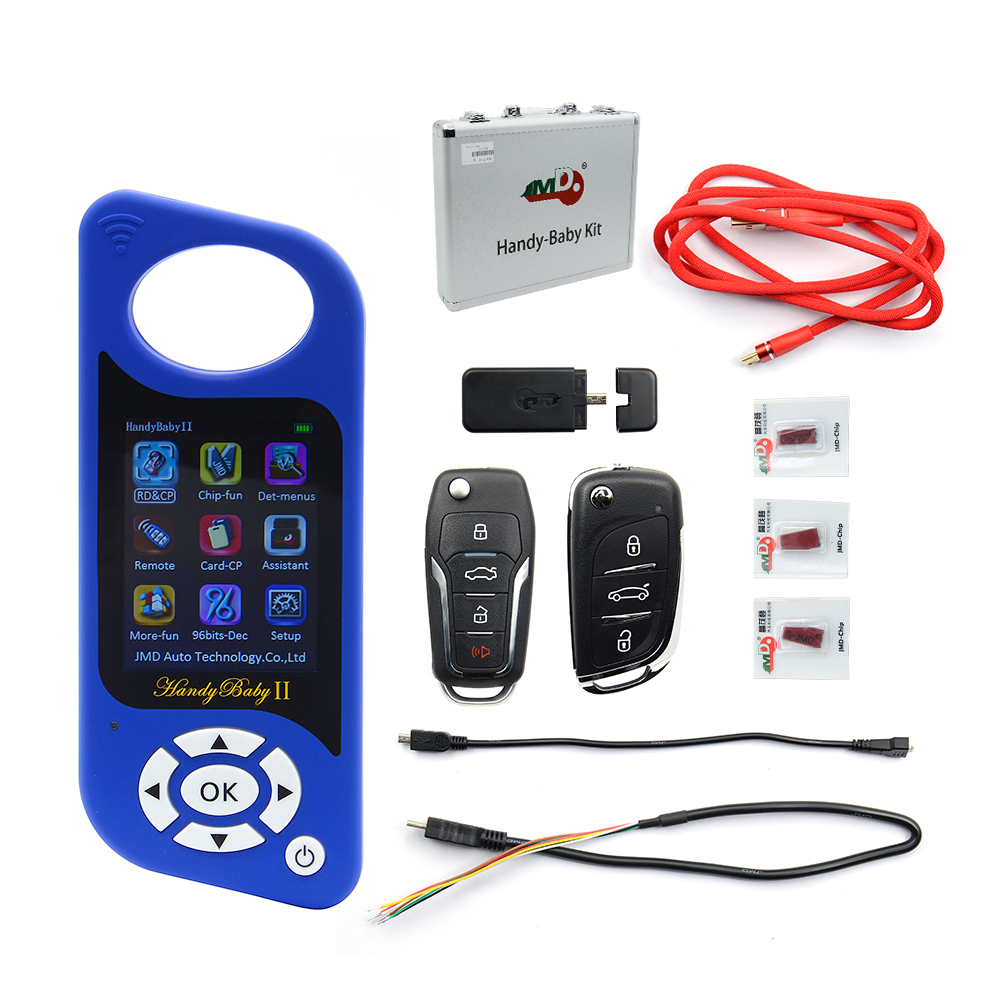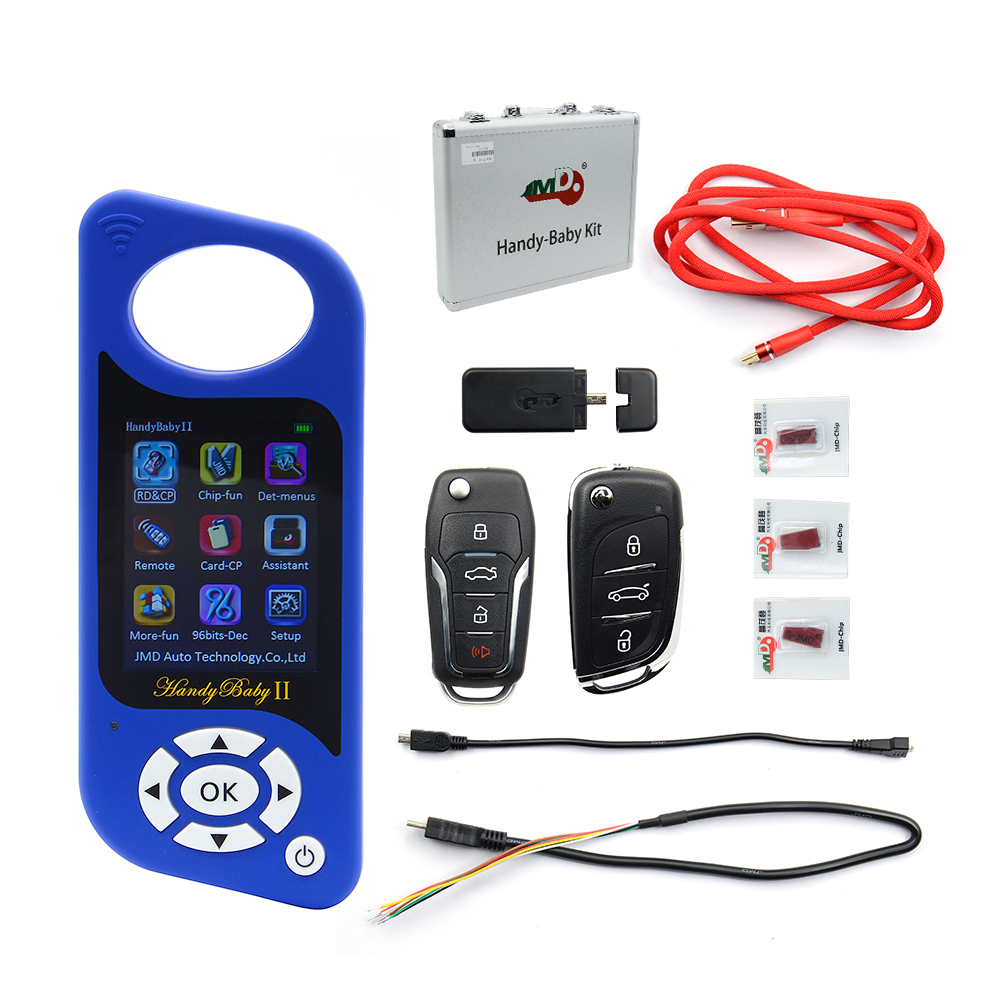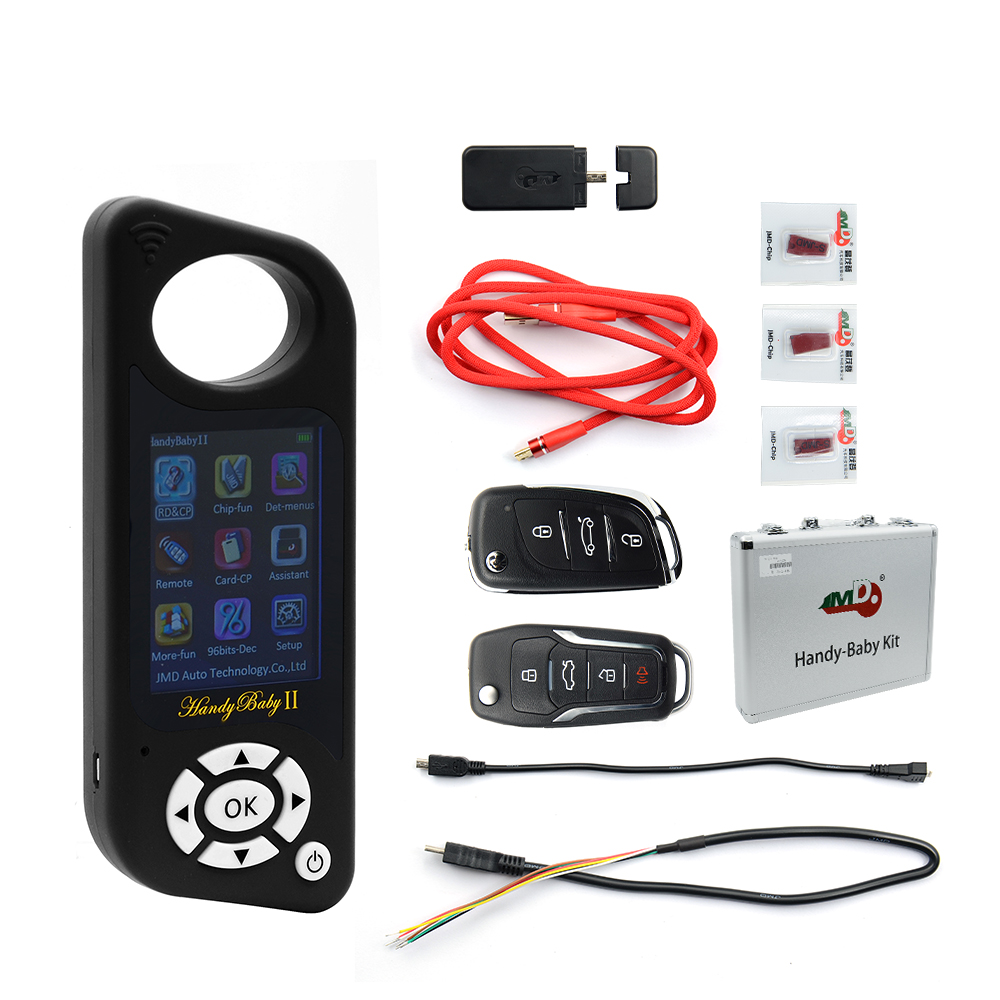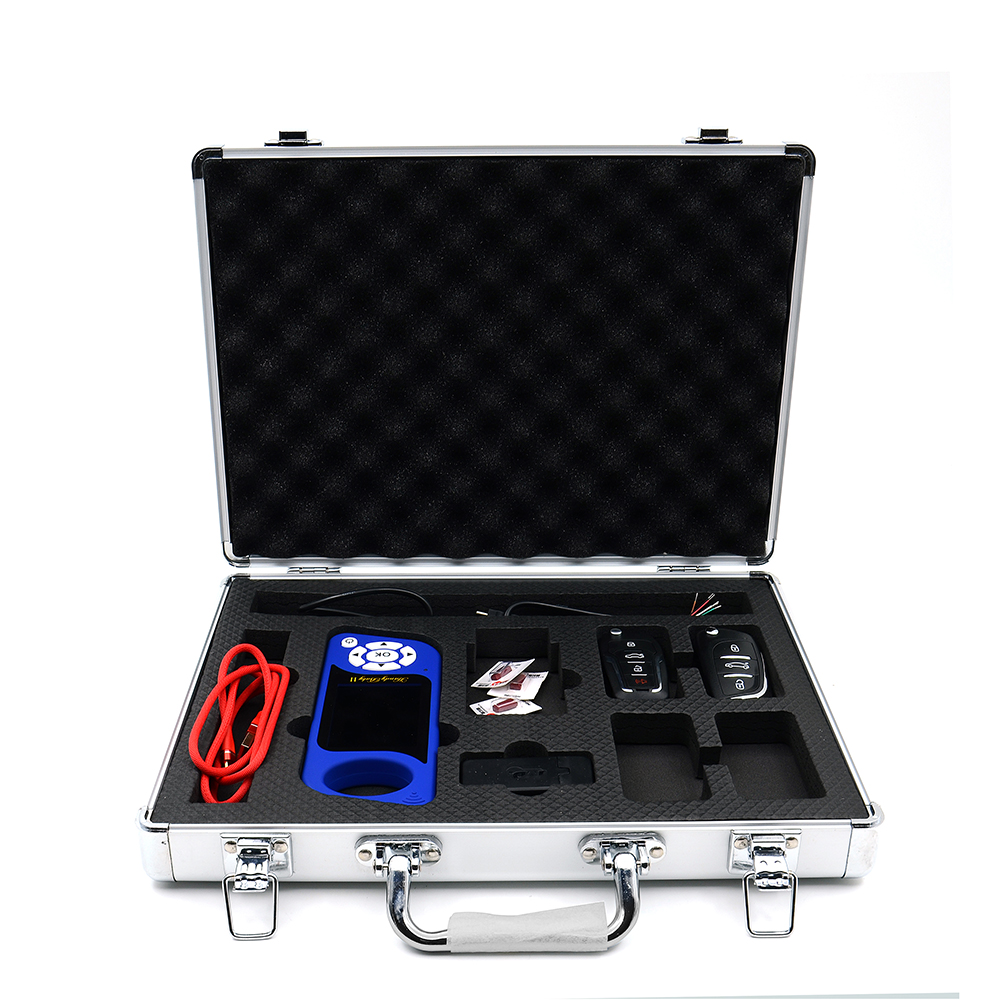 original JMD Handy Baby 2 II Key Programmer Hand-held Car Key Copy Key Programmer for 4D/46/48 Chips
Product Code:
Manufacturer: Genuine/OEM
Categories: Key programmer
In Stock
Handy Baby 2 II Key Programmer Hand-held Car Key Copy Key Programmer for 4D/46/48 Chips
Handy Baby II Key Programmer

Note:
1. Language: English, Spanish
2. This Device can't work together with CN1 or CN2 Chip, need to work with specially designed Handy Baby Handy Baby Super Chip
3. Update Free Online on Offcial Website

Handy Baby 2 Function List:

1.RD & CP: Identification chip /Edit Chip data / Deco chip / Copy chip
2.Chip-fun: Generate chip/Chip simulate/Chip transfer
3.Det-manu: Frequency test/ Data test/ signal detect
4.Remote: Remote renew/FIX CODE clone/Fixed code/JMD remote renew (JMD remote by JMD APP)
5.card-cp: Copy ID/IC card
6.Assistant: Copy Audi/VW 4th / Audi 5th/Audi ID8E/Assistant online(All key lost)/Assistant information
7.More-fun: Functional introduction/Simulate as transponder/ECO Mode
8.96bits-dec: Deco 96bits 48 and copy
9.Setup: Bluetooth/Voice/Volume/Brightness ersion/Function list/APP QR code
Handy Bay: Living for the locksmith, Saving for the locksmith

Handy Baby II Chip Generate Function:
Handy Baby II Chip Function Simulate:
1.Definition:Through the simulation function,the palm in the treasure II is simulated into a chip,which is equivalent to the use of the chip
2.Type:

3.New Function:Custom Simulation
3.1 Definition: Free modify data,simulate
3.2 Support chip type:4D/46/48/47/49 Pro/4A AES/8A/T5

Handy Baby 2 Chip Function Chip Transfer:
1.Chip transfer definition:Chip transfer is a method of replacing the 63/63+ chip with a 60/60+ chip.
2.Support model
2.1 Mazda 4D63
2.2 Ford 4D63/4D83,usually used in the US Ford:Edge/Raptor/Explorer
2.3 Transfer support all key lost
3.Operating procedures (Ford Focus 4D83)
3.1 Chip Function>Chip transfer>Ford (80 Bits)
3.2 K-Chip/S-Chip/ID4D60+ chip is placed in the identification antenna,OK TO Read>OK TO Continue>Simulate



Handy Baby II Chip Function Remote Transfer
1.Through the chip simulation & to the OBD program.After the OBD program successfully,generated remote.It have start car and remote function
2.Support Generate remote:JMD Remote
3.Support Remote Type:


4.Operating (Honda)
4.1 Choose "Chip fun" > "Remote Transfer"
4.2 Choose "Honda">"XRV/CITY/FIT"
4.3 Simulate Key and to OBD program
4.4 After OBD program.Choose "Remote"